Brought to you by

I'm talking about the alopecia that's more previlant amoungest women but can also appear in men where all the hair on their scalp begins to thin out including nape and sides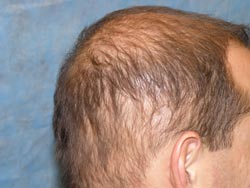 Posts

: 56


Join date

: 2015-09-19



It is possible. For these types, it helps to look towards gut issues, or sometimes medications (causing issues).
Admin




Posts

: 12071


Join date

: 2008-07-09



This type of alopecia is easier to cure than AGA. Diet will help a lot.
Learn about health and diet from these unbiased sites:
http://rawtill4diet.com/
https://www.reddit.com/r/vegan/
http://nutritionfacts.org/
Ignore every other site about health, especially Weston A Price, PerfectHealthDiet, and MarksDailyApple.
Become vegan and get a vegan girlfriend. Vegan females are hotter since they aren't obese from overdosing on oil. Vegan females will also live to the age of 100+ with you.
Durianrider takes zero supplements- not even vitamin D or b12. That's how good his diet is.
BTW, ketogenic diets don't work. People need to constantly drink coffee on those diets to force peristalsis because of severe constipation.
Coffee has high levels of acrylamide
, a dangerous toxin. The same is for those on peatarian diets. They also use coffee because they lack energy from not enough carbohydrates
https://en.wikipedia.org/wiki/Ketoacidosis
The only good things about Peatarian diets are orange juice and rice.
I'm going to watch Forks Over Knives the movie to learn more about meat's impact on health.
Veganism is the only way to be healthy



Posts

: 217


Join date

: 2016-03-03





Similar topics
---
Permissions in this forum:
You
cannot
reply to topics in this forum