Brought to you by
Page 3 of 3 •

1, 2, 3

ImmortalHair should have more subforums so we can discuss topics ranging from politics to Earth's structure.



Posts

: 217


Join date

: 2016-03-03



I try to take the high road most of the time, but I just could not resist posting this. The lander really does look like a high school science play, or a low budget zombie alien movie prop.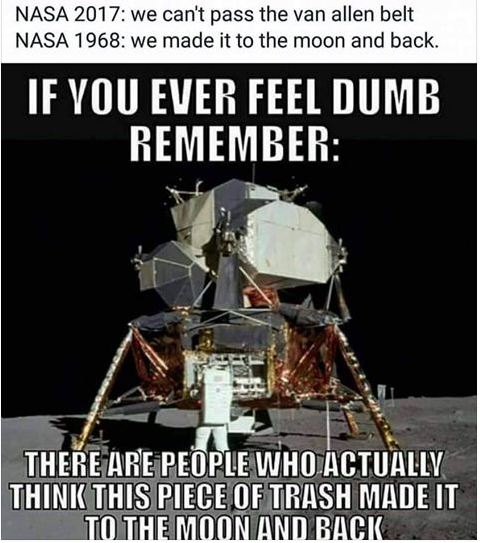 To redeem the post I will detail a but about how absurd the computing power was to power the pictured tinfoil trash can above.
Beyond assisting with broadcasting station communications and other electronic functions, the onboard computer had to
" a system that can control a 13,000 kg spaceship, orbiting at 3,500 kilometres per hour around the moon, land it safely within metres of a specified location and guide it back from the surface to rendezvous with a command ship in lunar orbit. The system has to work the first time, and minimize fuel consumption because the spacecraft only contains enough fuel for one landing attempt. "
http://www.abc.net.au/science/moon/computer.htm
Also it had emergency plans, and auto pilot functions/modes.
So what kind of super processing computer was used ?
" a grand total of 74 kilobytes of memory" - no disk drives , just wires wound around metal cores
" While it was handy, AGC wasn't particularly powerful having 64 Kbyte of memory and operating at 0.043MHz. In fact, it was less equipped than a modern toaster!"
http://www.futurecar.com/article-477-1.html
" Put simply, the iPhone 6's clock is 32,600 times faster than the best Apollo era computers and could perform instructions 120,000,000 times faster "



Posts

: 659


Join date

: 2015-10-19



Page 3 of 3 •

1, 2, 3

---
Permissions in this forum:
You
cannot
reply to topics in this forum